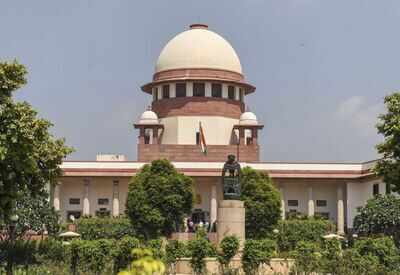 NEW DELHI: Making baseless and false allegations against one's spouse regarding impotency of life partner amounts to cruelty and divorce can be granted on that ground, the Supreme Court has said and upheld a Delhi high court order allowing divorce on that ground.
A bench of Justices L Nageswara Rao and Aniruddha Bose declined to interfere with the HC verdict and dismissed the plea of a woman who had made the allegation against her husband in the court and challenged the divorce granted on his plea. The couple got married in 2012. But soon after the marriage, the man moved the court seeking to declare the marriage null and void on the ground that it could not be consummated due to the woman's alleged impotency.
Countering his allegation, the wife submitted in family court that the man was suffering from impotency (erectile dysfunction) which was the true cause of non-consummation of marriage and also that her in-laws demanded dowry and she was cruelly treated. The man thereafter sought divorce on the ground of cruelty for making false allegation against him.
As the wife's allegation was found baseless after examining medical report and taking into account the statement of a medical expert, the family court allowed the divorce plea of the man. The woman then moved the high court, which turned down her plea and said her allegations were "grave and serious", and was likely to adversely affect the man's mental well-being.
"Thus, having regard to the law on the subject, we find no infirmity in the findings and observations of the trial court that the allegation of the appellant (wife) in the written statement with respect to the impotency clearly falls within the concept of cruelty as defined under law," the high court had said.
The wife approached Supreme Court and pleaded that divorce on the ground of cruelty be quashed and she be allowed to get divoce through mutual consent. But her plea was opposed by her husband's advocate, Prabhjit Jauhar.
FacebookTwitterLinkedinEMail