Google has a treasure chest of helpful tools. From Chrome Dev Tools to G Suite to Google Meet, there is something for everyone. Among these professional utilities, Google Analytics occupies the lead position.
Created to track website activity, Google Analytics provides data about session duration, pages per session, bounce rate, and more. It's popular thanks to simple implementation and a free plan. However, everything is not that rosy.
Google has been connected to various privacy concerns among some users, forcing companies to seek privacy-focused alternatives to Google Analytics.
A series of startups have launched and provide similar services without invasion of user privacy and overtly collecting personal data. These services offer almost the same range of instruments and focus on intuitive customer experience so that anyone can derive benefits.
Let's consider six promising privacy-focused alternatives to Google Analytics in 2021 so that you can find the best fit for your company.
Privacy-Focused Alternatives to Google Analytics
Microanalytics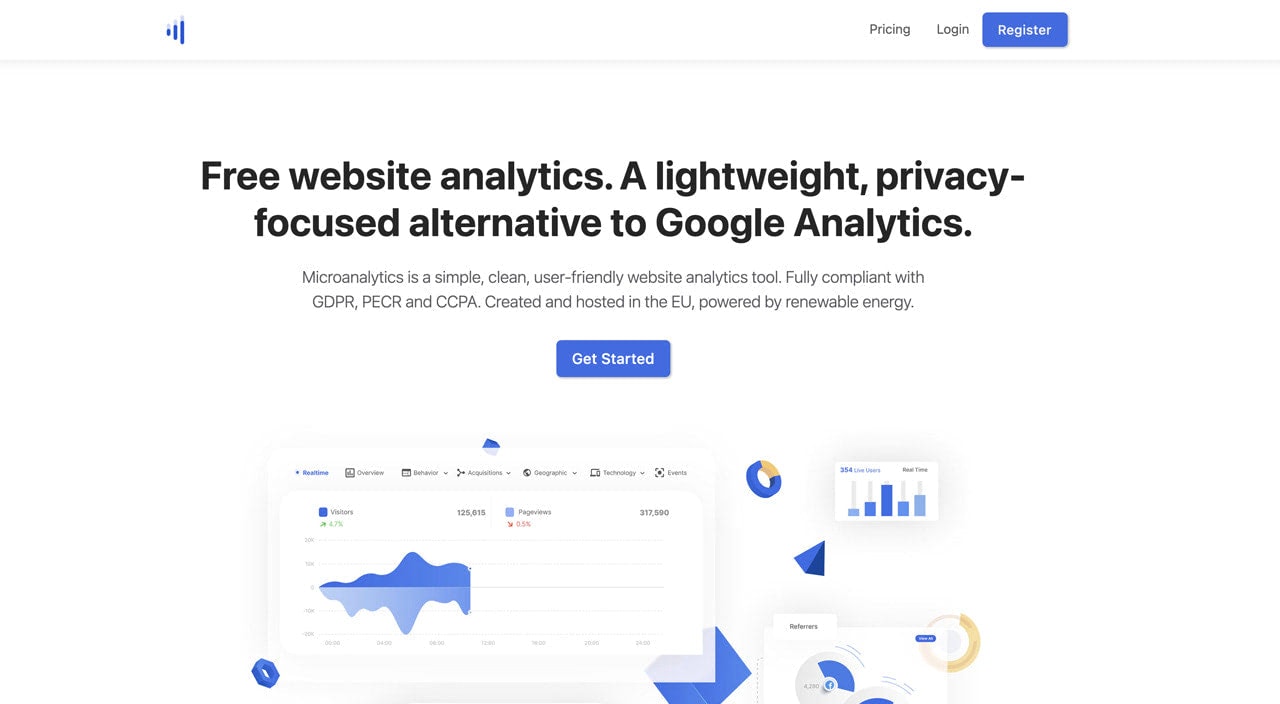 Online Email Template Builder
With Postcards you can create and edit email templates online without any coding skills! Includes more than 100 components to help you create custom emails templates faster than ever before.
Try FreeOther Products
Microanalytics is one of the most powerful privacy-focused alternatives to Google Analytics. In contrast to its famous competitor, it doesn't track visitors with IP addresses, fingerprints, or cookies. However, it still provides crucial information for your business to thrive.
Hosted in the EU, it is fully compliant with the privacy laws such as GDPR, PECR, and CCPA. It is also said to be powered by renewable energy. So, it gets some extra points there.
That's not all; among its many impressive features are:
Easy integration with popular platforms like WordPress, Squarespace, Ghost, Wix, and Weebly.
Little weight. Its tracking code is less than 1kb in size so that it does not overload nor slow down the website. Performance does not suffer.
No over-complicated interfaces with complex graphs and treemaps.
Real-time stats.
Offline access to your data through a downloadable CSV file.
Full control over data. Everything stays inside your website. The data is not shared with anyone else.
Advanced analytics. Collect information such as:

Behavior of users on the website
How and when visitors take actions on your website
How visitors find you
Where users are from
What devices visitors use to access your website
As for pricing, Microanalytics has a non-aggressive "fair use" policy. First of all, it offers a free plan for all those who only start their businesses. Everyone else can get reasonable premium plans based on traffic.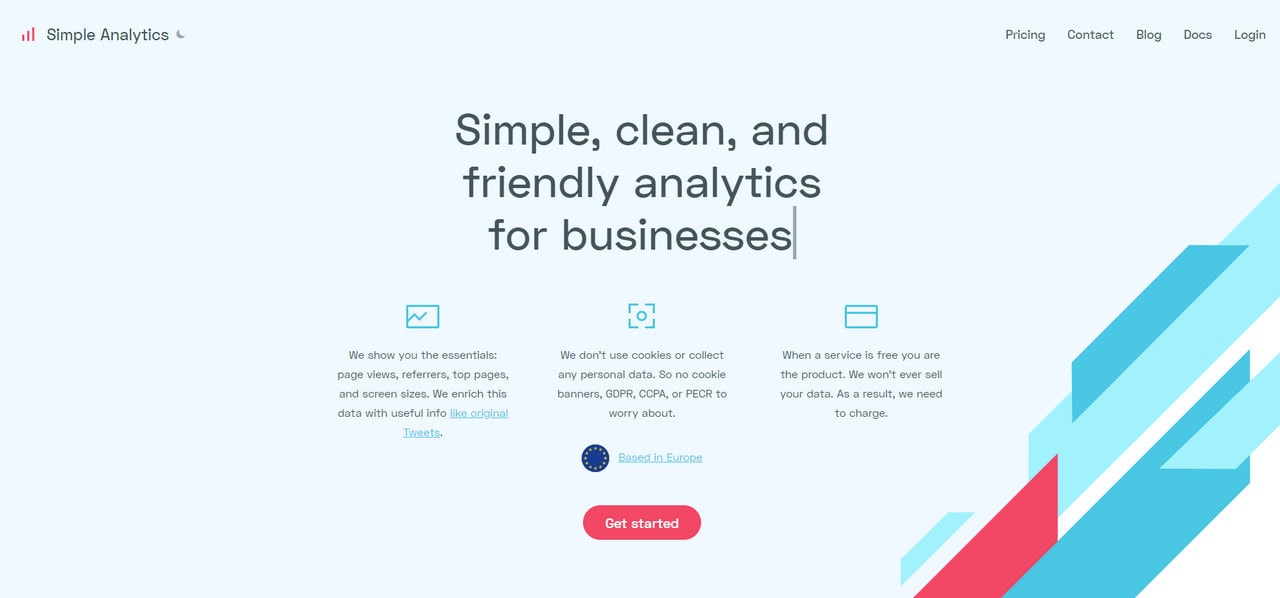 Simple Analytics brands itself as a simple privacy-focused alternative to Google Analytics. Indeed, the tool is very straightforward. It has a clean and friendly interface, thorough analytics that anyone can handle, and an excellent support team.
Much like Microanalytics, the company is based in Europe; therefore, laws and regulations are taken into account. When it comes to data protection, the team ensures everyone that they stick to code ethics that involves:
Collecting only crucial information and nothing more.
Putting website owners into driver's seat. You are in control of data: download or delete it at any time.
Encryption for drives that store data.
Not selling your data.
As for features, Simple Analytics comes with all the essentials:
Intuitive dashboard that shows such information as referrals, pages, devices, countries, browsers
Weekly or monthly email reports
Email reports that can be sent directly to your clients
Tools for bypassing ad-blockers
Dark mode and light mode support
Exporting raw data in CSV format
JSON API
It does not have a free plan. However, prices are relatively reasonable. For example, you can migrate from Google to Simple Analytics for less than $20 per month.
Fathom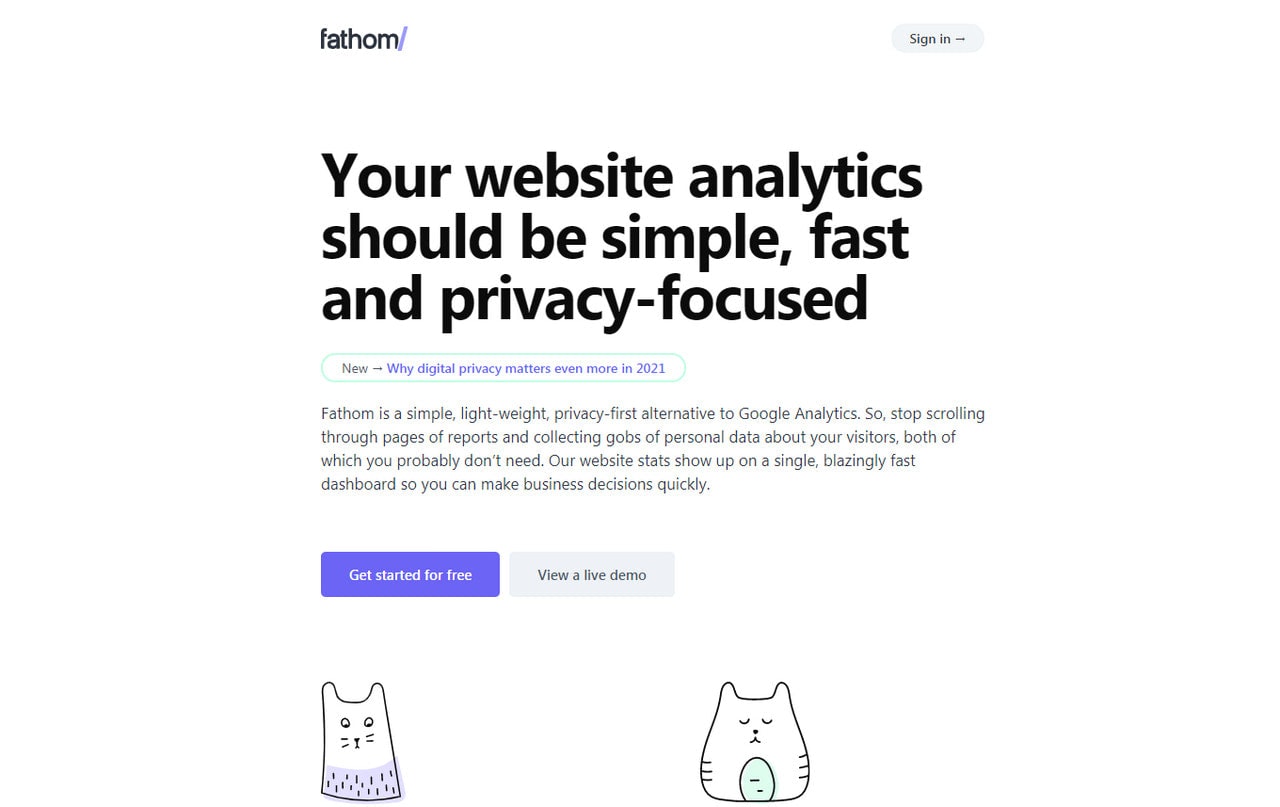 Fathom positions itself as a privacy-first alternative to Google Analytics, an ideal partner for every scale business. Thanks to enterprise-level architecture, the software effectively handles billions of page views and provides the most accurate data.
It is also lightweight, fast, clean, and intuitive. It deliberately stays away from the bulk of data that Google collects, focusing only on crucial information for the brands to thrive. Much like the two previous solutions, it also doesn't invade digital privacy with cookie notices. Yet, it is still compliant with GDPR, ePrivacy, PECR, and CCPA.
Among its main features are:
Simple website analytics dashboard that can be handled by non-tech-savvy people.
Tracking only essential information: top content, top referrers, and a few more useful details.
Easy integration with any website.
The fast and lightweight script does not influence overall performance.
As for pricing, much like Simple Analytics, the team sticks to a fair pricing model that protects clients from big bills for occasional overages. Again, no free plan; however, you can add unlimited sites under a single plan.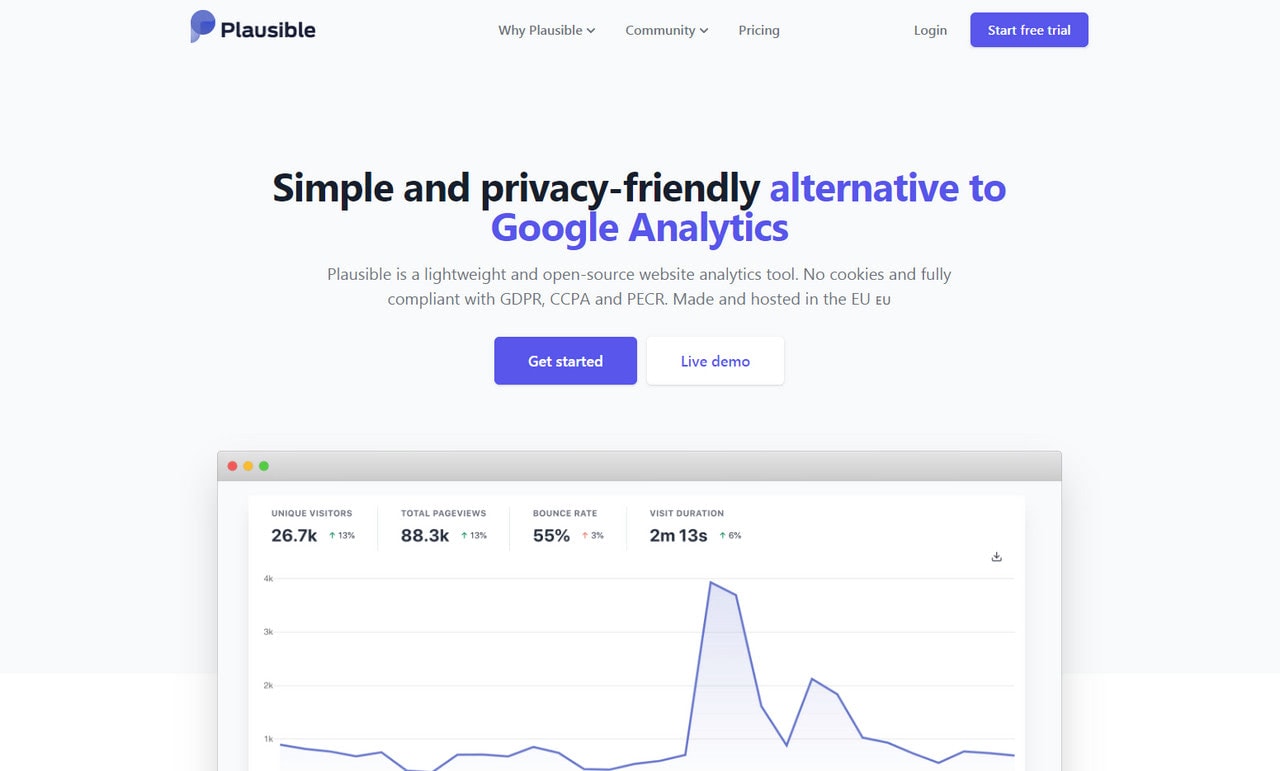 Plausible is an open-source project. However, this does not diminish its capabilities. It is a powerful privacy-focused alternative to Google Analytics that, by the way, is a self-hosted solution providing you an option to host data by yourself instead of sending it to someone else.
It is lightweight and straightforward so that you won't feel its presence on the website. It is bragging about being five times smaller than the Google Analytics script. Impressive.
It meets all the laws and regulations such as GDPR, CCPA, and PECR. However, it does not use cookies banners. No cross-site or cross-device tracking either.
It comes with numerous essential features, such as:
Friendly dashboard with crucial information at your fingertips
Segmentation of the data by any metric
Analyze tools for paid campaigns and dark traffic using UTM parameters
Creating custom events
Conversions tracking
Weekly email reports
Although the project is open-source, it still has premium plans. They are based on the amount of traffic that the service needs to handle. Therefore, if you have a small company or a startup, it will easily keep you within budget. The cheapest plan starts at $4 per month if paid yearly.
Panelbear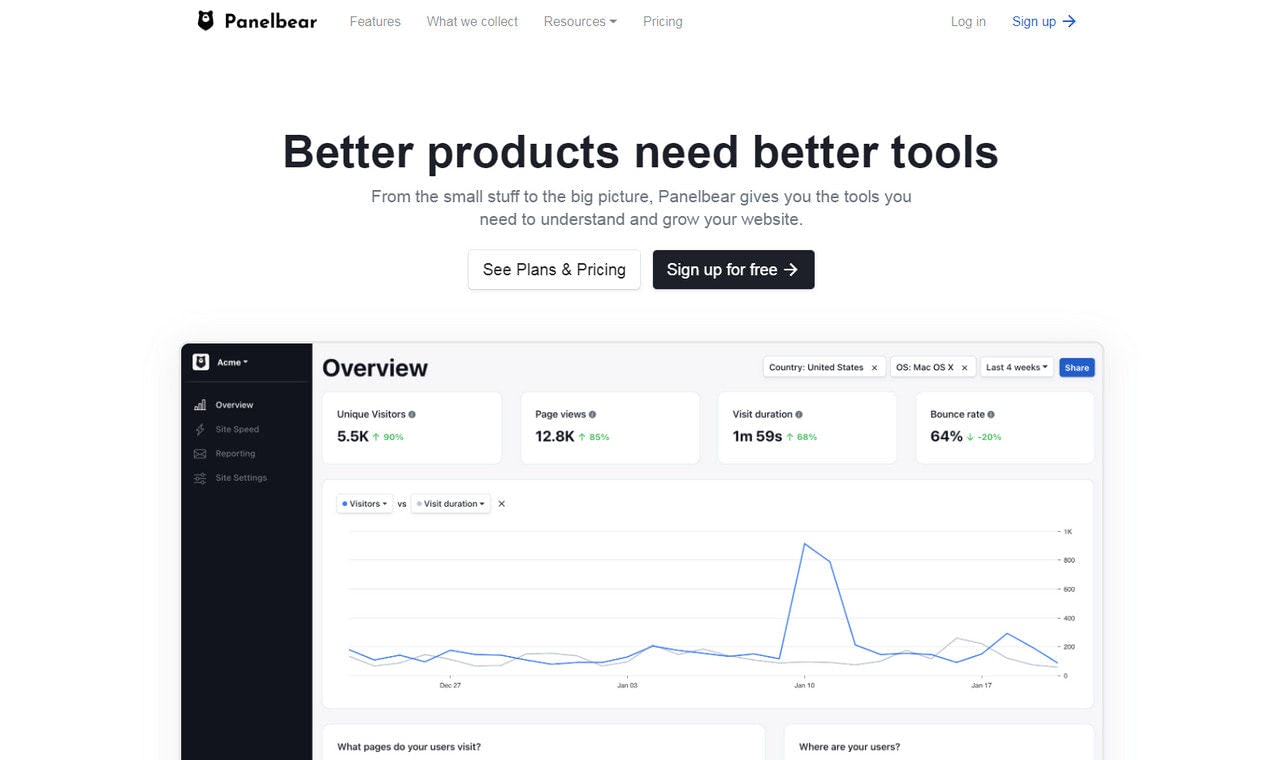 Focusing on tools that help the business grow, Panelbear is a privacy-focused alternative to Google Analytics that fits both small- and large-scale companies. It is simple but powerful. It ticks all the boxes, coming with such vital features as:
Lightweight script that can be installed on any website within seconds
No personal data traction. Everything is anonymous
Intuitive dashboard
Detailed reports for countries, devices, traffic channels, site performance, and more
Advanced filtering and breaking down data by any metric dimension
Quick access to data
Tracking all your projects from one place
Panelbear has a free plan for projects with up to 5,000 page views. The premium plan starts at $5 per month. It includes basic functionality that is enough for startups and small companies.
Pirsch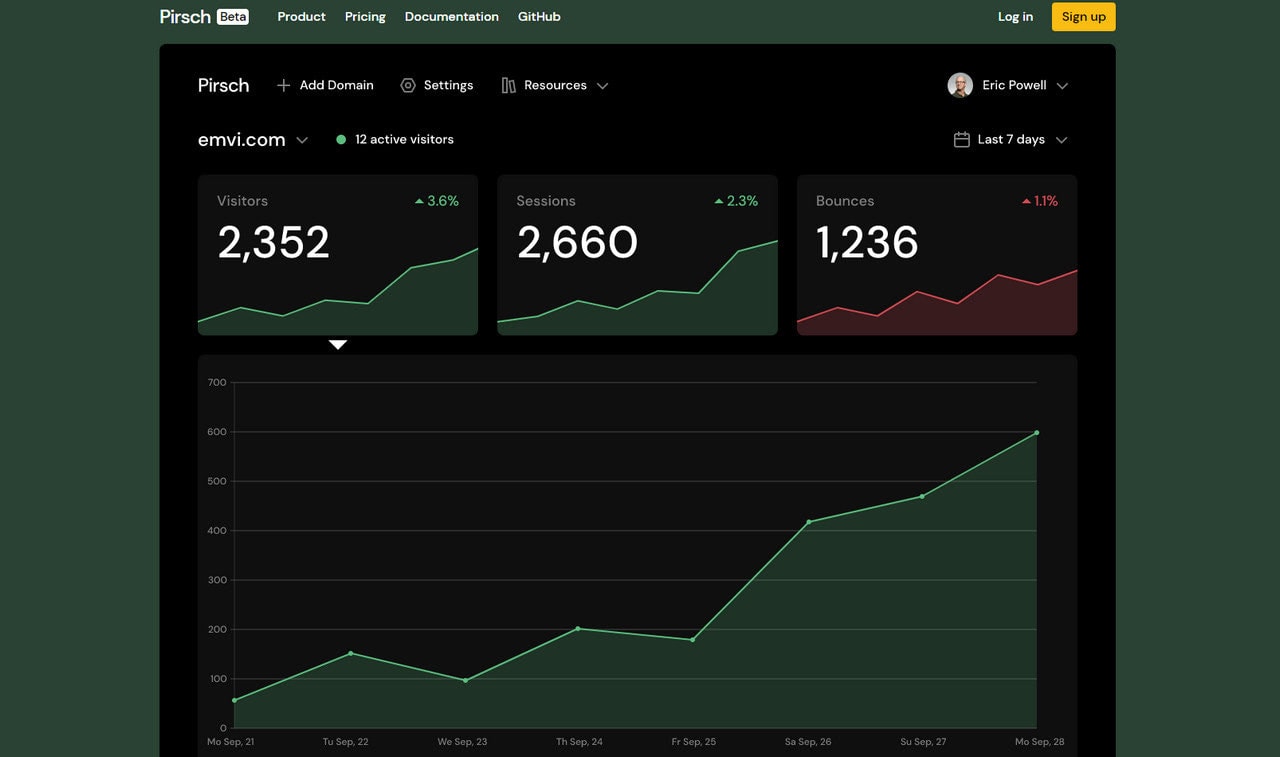 Pirsch gets you cover if you need to track website activity but avoid collecting personal information. It is another open-source project available on GitHub under the MIT license that serves as a reliable privacy-focused alternative to Google Analytics. Even though its code is open to everybody, the team has taken care of security to prevent unauthorized access, disclosure, modification, or unauthorized destruction of the data.
The platform is still on probation: some features like email reports or CSV data export are still in the development stage. Therefore, the platform is released in beta. It already shows some good results.
Pirsch ships with such features as:
Extensive API so that you can integrate the system into your backend
Lightweight, drop-in script that's less than 1kb
Detailed insights on all your website metrics, including visitor count, sessions, bounces, location, referrer, and more
Dark and light modes
Public access on a personal subdomain so that your team members can work on the same project together
As for pricing, the team offers a free 30-days trial. After that, payment depends on monthly traffic. The basic plan starts at $4 per month.
Conclusion
Whether our users like it or not, we need to collect data about website activity to stay afloat. More so, clients need this as well, since, with additional information about users' preferences and needs, we can provide the best user experience. With hyper-personalized custom experiences, we can give clients what they need, shortening their path to the goal and leaving everyone happy.
For the last decade, Google was the only solution that successfully tracked data. The problem lies in the fact that more people believe that the leading search engine cannot be trusted with personal data. Even cookie banners that appear here, there, and pretty much everywhere do not make it better. They only worsen the situation.
One of the ways out is to use privacy-focused alternatives to Google Analytics. The good thing is that many services do almost the same thing. Microanalytics, Plausible, and others are great instruments to track activity and manage your website efficiently without invading user privacy.
Although they don't yet have solid age and a wealth of experience, they fit the bill and provide more than enough to keep your business on track.
Like what you're reading? Subscribe to our top stories.